Sleep is for the weak...
Last Saturday was the first ever Game Hack UK a 24 hour game jam held in a gigantic television studio at Pinewood studios (where they make those little Bond films among other things) organised by TIGA and Blue Via and sponsored by many folks who you can see lovely logos and such of on the link.
Spending around 30 hours (set up, intros, team choosing, prizes etc. as well as the 24 hours of hacking) in a cavernous warehouse where you're entirely unaware of the storms raging outside (soundproofing is amazing) with 250 geeks might not be everyone's idea of an exciting weekend but I'd not have missed it for the world.
I'd originally planned on bumbling along to the jam, getting put in a random team and seeing how things would go. However, overhearing James Parker and Nick Dymond discussing a possible team over twitter I offered my programming services, subject to the team having an awesome name (the jury's still out on that...). James had also been in touch with up and coming animator Aiden Young and so Team Coderunner was born.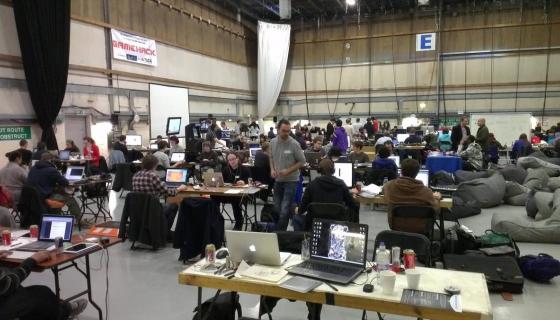 Photograph by Tom Vian
Always prepared, James (taking on the mantle of designer, producer and filling in the gaps) had brought with him an idea (and a simple prototype) of a game for us to enter in the mobile category. The Jam as a whole didn't have any themes or other restrictions, though some of the prize categories did. So our game was to be "An endless runner where you have to open doors before you reach them by entering codes on a touchscreen controller, also, you're clattering down a corridor escaping from the unseen horrors behind you", which we all agreed sounded like good fun. With only 23 and a bit hours left on the clock, work began in earnest.
At this point I'll ask you to imagine the training-montage of concentration on c-sharp coding, rapid modelling and tweaking of animations, headphones-on-head-down concentration on the music and big bits of paper with lists. Splice that with much drinking of caffeinated beverages (there was a lot of red bull on offer though I kept myself to the fruit juice, diet coke and coffee...), eyes getting redder and redder and everyone getting ever so slightly more cranky....
Somehow in the middle of all this I managed to sneak 5 hours comatose on a beanbag (as per title, I am weak). I wake up to not only a hot dog and a cup of coffee but also a raft of new animations and sound to integrate as well as a name for the game: "No Turning Back".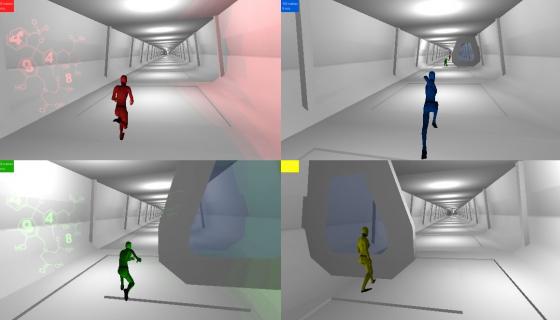 All too soon coding time is up, lunch is served and then all the teams are demonstrating their games. Some absolutely stunning stuff is demoed, from Lightwood Games' incredible multi-screen bubble popping game, Super Flash Brothers' multi-player iOS game Monkey King's Spiritual Swing, an amazing procedurally generated aquarium, a kinect-powered bee-piloting game, cute endless running robots, to the social-media-enabled You Are Mash, Blitz games Pant!One panic! and a genius bullet-hell "Chasebook" game ending with a giant Zuckerberg head gobbing spirals of killer profile pictures. This is just a handful of the entries - there were so many other cool games and game concepts (some were just a bit too big to fit in 24 hours) the amount of ingenuity and talent on display was amazing.
As the "best use of mobile" (the category we had gone for) went quite rightly to Lightwood games we sat down to clap the rest of the category winners only to suddenly hear the name "Team Coderunner" called out - we'd won the TIGA "Most Awesome Game Award". Go team!
There's no public version of the game yet (so you can't yet see if you agree with the judges) but with a vote of confidence like that we'd be daft not to do something with it - so watch this space...
For my part I'd like to say thanks to my fellow team members, to everyone involved in organising the jam and the sponsors who helped make it happen. I had a great time, we were all very well looked after and I can't wait for the next one.
—
Posted Tuesday, May 1, 2012 - 15:03